TEAMVIEWER – Error – Screen cannot be captured at the moment due to fast user switching  & Installing Teamviewer as Service
tl;dr Quick solution – Install Teamviewer as a service to remove the "Screen cannot be captured at the moment due to fast user switching" error. Installing Teamviewer as service, just means setting up unattended access, also it means that Teamviewer will launch on boot.
What is this Error
If you use Teamviewer alot. Chances are you came across this error (well the person connecting to your Teamviewer Session ID gets this message):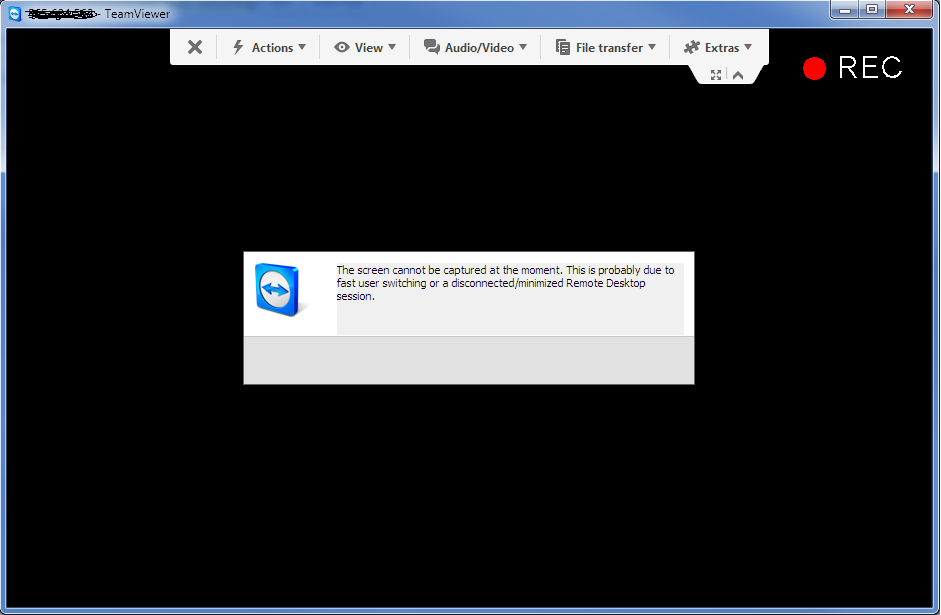 Sidenote: Ignore the "REC" – that's just an awesome feature of Teamviewer that lets you record sessions in their own format (very efficient size-wise – a day's worth of recording can be very small file compertavily, against recording with a screen cap software  that output mp4s)
Back on topic, Here is the error up close:
What does it mean (for the person that installed Teamviewer)
It means that Teamviewer is not installed as a service, so it cannot latch on to the depths of the OS. The person connecting to your Teamviewer session will be faced with the above error if any of the below conditions are true and they will not be able to remote access your PC.
So what makes it come up if its not a service?
– If you RDP (and then you minimize the RDP session, or let go of it)
– Log out of the user that has the Teamviewer open
– Let the PC idle out
Note: If Teamviewer is installed as a service, and pretend all of the above conditions are happening at the same time, well the person connecting in, will be able to connect without issue (Because Teamviewer is a service so it has more privileges)
Solution 1 (INSTALL TEAMVIEWER AS A SERVICE):
Install Teamviewer as a service, so just turn off your quick-run/quick-support of TeamViewer and go to www.teamviewer.com and install the program to launch on boot (that will install it as a service), you will see the option for that during installation. Then that error will never turn up, even if your RDPs. If its already installed, there is instructions below on how to make it run as  a service.
Setting up Teamviewer as Service During Install
Start the install (dont use QuickSupport as those dont run as a service, but use the regular version), it will ask if you want to install it as "unattended access" or two other options, make sure that "unattended access" is checked on. Also if you have a chance to enable "advanced" setup options during your installation, do so. It will then ask you to set an unattended password for your installation. Set up a secure unattended password. You will be able to login to your PC with the generated 9 digit unique ID, and using the unattended password (or you can also use the random generated password). When you setup unattended access, the random generated password will be more complex (instead of the typical 4 digit number, it will be  a 6 char – with lowercase letters and numbers). Also if it asks, whether you want to login using your Teamviewer username and password, if you dont want to login, thats fine Teamviewer will still run – just select you dont want to make an account at this time, if you dont want to login or dont want to create an account at this time. Using username and password (teamviewer account password – not one of the random or unattended access password) will just make it so you dont have to keep track of the 9 digit IDs – it will add the ID to your Teamviewer PC list – from all of the PCs where you logged in with your username and password. Note that if you do not login with your Teamviewer username and password you can still add a PCs id and secure/unattended access password to your PC list.
So just remember to install it with the following options:
– unattended access
– advanced options for install
– setup secure password
– dont make a teamviewer account at this time (optional – if you make one it will still install teamviewer as a service)
Setting up Teamviewer as service If its already installed
Open up Teamviewer and go to "Extras" menu and hit "Options". In the "General" Tab make sure that "Start TeamViewer with Windows" is checked. Then change to the "Security" Tab and make sure you set the password to something secure. Then make sure the "Password Strength" is set to "Secure (6 characters)". Then hit OK. NOTE: You will notice that a person can login to the Teamviewer session via the Personal Password and also the Random Password (which you see on the front Teamviewer screen.)
Solution 2: Working around that error
If you dont want to install Teamviewer as a service, but still want someone to connect and they are seeing that error, so they cant control your PC (yet you want them to control it). What can you do as a host of the Teamviewer session? Well make sure that:
(1) If you RDPed (Remote Desktop Protocol) into the PC when you launched Teamviewer. Then when that RDP gets minimized (or maybe just gets out of focus of your mouse), the person connecting will see the error. To fix it turn off your Teamviewer, go to the PC directly (through physical access) and open up the Teamviewer software without running it through and RDP.
Note1: you can still have RDPs running, just make sure Teamviewer isn't running through an open RDP session. OR else when its minimized the error will happen.
Note2: If your don't have physical access to the PC because its a Virtual Machine. Well technically you do have "physical" access, its through the "Console" tab on your favorite virtualization client (vmware workstation, vsphere client, XEN, vmware player, virtual box)
Note3: If you have no option but to use RDP. Just make sure that when the user is connected that the RDP session is constantly in focus on your side of things, and never minimize it.
(2) Don't log out of the user and log in as someone else. Simply let the session be open. Since teamviewer is not installed as a service.
(3) Don't let your PC idle out, make sure your Timeouts are set to infinity (or 0) or no timeouts
Note about this article: These are all things that I have done to combat that error. I'm not a Teamviewer engineer, so some of these steps might be not 100% true – or unneeded. But I can testify that all of these steps worked for me at some point or another. They continue to work for me each and every day.
Final Tip
If your giving remote access for another individual. You can save some email/phone exchanges by testing the connection yourself: On another PC install the same version of Teamviewer which the remote person has.  Then simply try to connect. This just saves time instead of waiting for the remote user to connect.